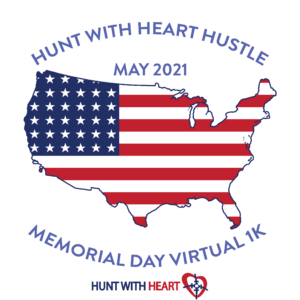 What does it mean to participate in a virtual 1K?
That means that you can run, walk, bike, rollerblade or get moving anyway you'd like. You also get to pick the location in which you complete your 1K- at the park, around your town, on a treadmill or stationary bike, but it must be completed by September 30th!
Where?
Anywhere you'd like! The park, your neighborhood, a hiking trail, wherever you can do a 1K at!
When?
The whole month of September
Why?
To promote heart awareness and to raise money for Hunt with Heart! Also, to get you up off your couch and moving!!
What is included?
You will receive a race t-shirt once you have completed your run and a picture is emailed to Allison Merecka at [email protected] for proof of completion!
Sponsorship Opportunities
 – Event and T-Shirt Sponsor $5000
-Includes 50 Participants, recognition on website, social media, article in Newsletter and large LOGO on the event t-shirt
Corporate Team Sponsor $1500 for 30 participants (2 available)
-small logo on shirt, web, and social media
Team Sponsor $1000 for 30 participants (4 available)
– Recognition on website & social media and in newsletter
Team Sponsor $500 for 15 participants (10 available)
– Recognition on website & social media and in newsletter
Sponsor a HwH Member $35 (100 members)