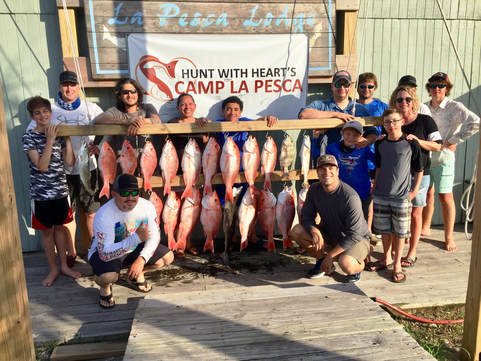 During the first weekend in June, Hunt with Heart welcomed four new families into our Hunt with Heart family at Camp La Pesca, in Port O'Connor. Camp La Pesca is our fishing camp, which allows our organization to focus our efforts on a younger age group of kids and get them involved with Hunt with Heart sooner. The four families who attended grasped our mission from the beginning making camp a huge success. Throughout the weekend they were able to bond, create life-long friendships, and make memories that they won't forget!
Our campers and their parents arrived at Camp
La Pesca on Friday afternoon. We did a quick meet and greet, went through the rules and schedule of the weekend, grabbed lunch, and then they were off on the water with their guides to kickoff their weekend! During the weekend their is non-stop fishing, the campers are even begging the guides to continue fishing after dinner each night. Our joke of the weekend was that we wished we could have just some of the energy that they have. Our Hunt with Heart guides are wonderful and want the campers to have the best experience and did whatever it took to make that happen, so they would take them night fishing for flounder. After fishing all day Friday and Saturday we got to come together and have a fish fry Saturday evening with the fish the campers caught. The campers really enjoy this part and ask as they are taking a bite of fish, "Is this the fish I caught?" They are excited that their hard work paid off and tasted so good too!
​
On Sunday morning, before everyone starts their journey back home we do a ceremony to recognize each one of our campers and talk about their accomplishments and what their guide saw in them that weekend. This a magical time during camp and a time that really brings everyone closer and tightens the bond that was made throughout the weekend! They are sent home with a picture frame and a bag full of fish that they had caught to share with the rest of their family!
2018 Camp La Pesca was a success and we are so thankful to have four new families added to our giant Hunt with Heart family! The fun has only begun!