Conner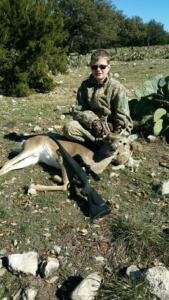 Conner was born in 2002 with a congenital heart defect called Hypoplastic Left Heart Syndrome. His diagnosis was made about 24 hours after birth when he was life flighted to Houston. He was very quickly transferred into the care of TX Children's Hospital. At 5 days old, he had his first surgery called the Norwood, and then another surgery at 7 months old called the Bi-Directional Glenn. His final planned surgery was performed just before his 4th birthday and was called the Fontan. These surgeries did not correct his heart nor make it normal, but basically worked with what he's got and gave him a unique circulation. We were told that someday he would need a transplant, and it would probably be as a young adult. He has done very well for the past 13 years since his last surgery until the beginning of May 2019.
On May 1, he was not feeling well, and it appeared to be something viral. We noticed that his coloring was a little off, but figured it was because he was sick. By the next day, he was wanting to see his pediatrician. At that visit, his oxygen saturations were a little lower than normal, and he still looked cyanotic. Arrangements were made to see the cardiologist within the next week. Unfortunately, the morning of May 5 his condition had become worse, and the decision was made for Texas Children's transport team to come get him from a local ER. His father accompanied him on the transport plane, and I drove to Houston to meet them shortly after his arrival at TX Children's where he was admitted to the CV ICU. A diagnosis of heart failure was very quickly made, and we began the process of transplant evaluation. On May 20, Conner was discharged to go home with medical support while waiting at home for transplant.
However, at the end of May, he was readmitted due to his condition worsening again. Because his heart failure became so serious so fast, it wasn't long before the decision was made that he would require a ventricular assist device to bridge him to transplant. On June 6th, Conner received his VAD and is recuperating well from that surgery. Conner has been approved for transplant and is on the transplant list, although he is on inactive status until he is fully recuperated from the VAD surgery.
As we go through the process of recuperating from the VAD and awaiting transplant, we will continue to have extended stays in Houston and travel back and forth between our home and Texas Children's Hospital for medical appointments and care. His dad will continue to return home and work as much as possible. Our other two children continue to be taken care of by friends and come to visit often. We are so thankful for all the love, support and many prayers that Conner and our family have received! God has definitely provided us with amazing medical care and incredible loving family and friends!
Obviously, our family has a lot of challenges right now, and we really treasure all who support us! Conner joined Hunt with Heart in 2014, and we were blessed with this awesome group of people being added to our support system! Conner attended his first hunt at Beaver Creek Ranch in 2014 and had a blast meeting other kids with similar heart conditions and killing his first ram. He had always spent a lot of time outdoors with his father and was beginning to hunt with him, but this was a new hunting experience that began a lot of new opportunities and relationships for the entire family. Since then he has gone on other hunts around Texas and attended some of the other events hosted by Hunt with Heart, such as the annual picnic, painting with a wildlife artist and a nerf war get together! We have also enjoyed these opportunities to visit and make friends with other families going through life with similar health issues and to get to know all those who work with Hunt with Heart. All who work and volunteer with Hunt with Heart have over the past 5 years taken the time to get to know Conner and our family, frequently checking on how he was doing. Now that he is at such a huge turning point in his health, we are so grateful that Conner is a part of this wonderful organization and appreciate their love and support at this time!