Jakob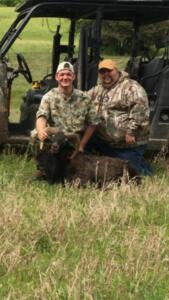 My name is Jakob Cobucci or aka "Swamp Donkey". I got my nick name from my first memorable trip to Hunt with Heart's Camp Beaver Creek.
I was born on May 22, 2000.  I was a very energetic child, very athletic, and never met a stranger.  In October 2013, I was in a bull riding competition when a bull stepped on my chest. Shortly after that I came down with a common cold and I went to my general doctor. The doctor told us he heard an extra sound and was referring me to a pediatric cardiologist. I had never seen a cardiologist up until this point.  A few days later I saw local cardiologist who told me that I did in fact have a condition called Microvalve Prolapse which I was actually born with and had nothing to do with the bull stepping on my chest. My condition had just made itself more evident as I was getting older. My valve was at 3% which meant only 3% of the blood that went through would invert back through the valve correctly. I was told everything was fine and to continue on with my everyday life as I always had. The doctor told me I could continue bull riding, playing football and everything as I always had, and we would check on it once a year. That year, I went on to win and became the Louisiana Junior High Reserved Bull Riding Champion for the State and went to compete for the National Finals Rodeo for the National title in Des Moines Iowa. For the next three years I did my yearly appointment with the valve every year closing more and more going from 3% to 1% to 5% to closing all the way on its own.
I have played on my Jr high and high school football team since the seventh grade, but days before I started my Junior year, I went for my heart appointment and they discovered something was different. The walls of the left side of my heart had thinned and weakened and no one knew why. I was referred to Texas Children's Hospital where I met the wonderful Miss Corey Gates and Dr. Denfield. Over the next two years, over multiple appointments they ended up diagnosing me with atria tachycardia. I had to take medication, exercise, and watch my diet. I worked very closely with my doctors and Miss Gates with my condition along with my coaches. I was allowed to play my Junior and Senior year of football while it was limited, I was still able to be a part of the team and able to mentor my younger teammates which meant the world to me. I played free safety, kicker and defensive lineman. I ended up getting Academic All State for defense for lineman.
Miss Corey introduced me to Hunt with Heart. I had the opportunity to take my uncle, who I normally go hunting with, to Beaver Creek Ranch. While there, we went fishing, hunting, (I choose to go into the swap for my hunt which is how I got the nickname "Swamp Donkey) we had confetti egg fights, water balloon fights, and lots of fun. It was so memorable and amazing for all of us. I got to meet some amazing young men and ladies, the coordinators of Hunt with Heart, the owners of Beaver Creek Ranch and a lot of people that helped to put this wonderful organization. By talking to and listening to the other campers, I realized that some of the other kids did not have the same opportunities to play sports and do some of the things that I had in life, and I wanted to make sure that everyone felt included, felt important, and felt that they were a part of everything that was done the weekend that I was there. I would stop, turn around and go meet them and tell them come on and I would walk with them. No one treated us as if we were sick or as if anybody was any different that weekend. It was great!
I graduated high school last year with honors and I'm currently attending Sowela Community College for welding and on the Dean's List. HwH help to aspire me to be a better person and a role model for others, to always try to inspire others help where you can and try to make a difference in others' lives. I was so excited to be asked to come back and help with the HwH Organization. I live in Louisiana and so it is hard for me and my family to make a lot of the events, but we try to make as many as we can because this is an organization that truly touches our family and so many hearts and changes so many lives. It is a wonderful organization. God bless Mr. Jim and Mrs. JoAnne Elzner, Mr. Joe, Mrs. Angelica, Case, Tim, Ms. Allison, and everyone that has ever had any hand in it. You are all truly a blessing. God bless you all. Please continue what you do because it matters to so many!
Thank you again from Jakob Cobucci , the Cobucci and LaRocca Family!