Lauren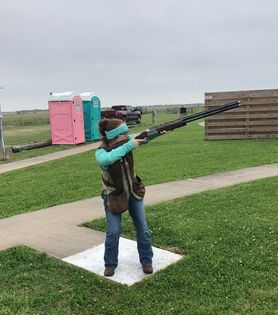 I am a nineteen-year-old girl with congenital heart disease. When I was born my parents had no idea I had heart defects. It was not until the next day when the doctors and nurses swept me away to have my first heart catheterization procedure that they found out that I had congenital heart defects – pulmonary atresia with VSD and a mitral valve defect known as parachute mitral valve. So far, I have had four heart surgeries, several cardiac MRI's, countless echocardiograms, and too many heart catheterizations procedures to count. When I was in Kindergarten, as well as my senior year, I spent six weeks in the hospital with a condition known as endocarditis. I was also hospitalized several times due to nutrition complications and respiratory complications that are quite common in children that have congenital heart disease. Through the years, I have become very familiar with the people and the places at Texas Children's Hospital, as well as being accepted on to the children's advisory board.
Although I spent so much time at the hospital, you would never have known that I had a heart condition. By the time I was three years old though, it started to become more apparent that something was not right. My skin was starting to change colors and I was becoming very tired, very quickly. I had a really hard time doing any physical exercise at all. I was starting to have the expected side effects of my previous heart surgeries and because of this, the doctors told my parents that it was finally time for the big surgery. They called it the final repair. During the 14-hour procedure, they closed the holes in my heart, gave me a new pulmonary valve, and did a minor repair on my mitral valve. After that, I was closely monitored by the doctors. The years went by and I lived as normal of a life that I could despite the medications and the scars on my chest and back that I lovingly refer to as my "beauty marks." I tried to fit in with others by trying out many different types of physical sports. I found out that soccer, tennis and softball were not sports I was going to excel in. When I was 11, I joined our local 4-H group. I started out in 4-H doing archery but after a year I switched to shotgun sports such as trap, skeet and sporting clays.
When I was 13, I had another heart catheterization procedure done. My doctor told my parents and I that it was time for my fourth surgery. It had been ten years since my last surgery and I did not know what to expect. Dr. Fraser replaced my pulmonary valve and I also had another mitral valve procedure, too. I had the surgery and made a remarkable recovery.
After this surgery, when I was at the hospital for a check-up, something wonderful caught my eye, it was an advertisement for Camp Beaver Creek. It talked about hunting and fishing and I knew that I wanted to go to this camp! I had been shooting for a couple of years and knew that I had wanted to go hunting but never had the opportunity. I was so excited at the possibility of getting to go hunting for the first time that I was beside myself. After looking at the website the first thought I had was how exciting it would be to harvest a zebra. At this point though, I just wanted to see how I would do at hunting. Since I had just had surgery I was unable to attend the first camp, but I was told I would be able to attend the second camp
When I arrived, I was welcomed to a beautiful room and some camo Game Guard gear that I still wear! During the Hunt with Heart weekend at Camp Beaver Creek I had such a blast! I was able to harvest a Merino sheep! I had the time of my life! I think I had more fun than the boys! I have been able to show off my set of horns on many different occasions thanks to Taxidermy by John Guidry. I am so thankful for the opportunities that have been made available to me because of HWH. Opportunities that would not have been possible otherwise! As a result, I have volunteered with Hunt with Heart on every occasion that was made available to me. Not only was I able to attend Camp Beaver Creek, but I was also able to go to Canada with my Uncle. Please know that my life has been blessed because of everyone that took part in making my dream come true! Without Hunt with Heart I would have never been able to go hunting, much less go to Canada to hunt.