Hope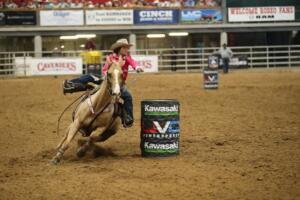 HOWDY! My name is Hope Butler and I was born March 1st 2002 in Temple, Texas.  It didn't take long after I was born to realize that something was wrong.  It had a lot to do with the bright shade of blue that I was sporting.  I was immediately rushed to Dell Children's Hospital in Austin, Texas and was diagnosed with Tetraology of Fallot which is 4 different heart defects: VSD (Ventricular Septal Defect), Pulmonary Stenosis, Right ventricular hypertrophy and an overriding aorta.   I spent 15 days in the hospital and had my first open heart surgery on March 15th 2002 and went home on March 30th 2002.
My mom and I moved to Deer Park, Texas when I was 4 and I was able to play various sports as an elementary student and I was an avid participant in our community theatre.  I had deep roots in the rodeo world.  My dad was a team roper and my great aunt was a barrel racer.  Even though I loved basketball and theatre, my heart belonged in the saddle.   When I was 10, my stepdad got me involved in horseback riding lessons and it didn't take long for my parents and grandparents to buy me my first horse, Baybe.
During the next few years and multiple heart caths later, I was working hard to further my barrel racing hobby while working hard at school and being an active member of the Deer Park FFA Horse Judging Team.  I was determined not to allow my heart condition hold me back.
In February 2017, during my cardiologist appointment, Dr. Justino noticed a curvature of my spine from my chest x-rays.  I was referred to Dr. Phillips at Texas Children's Hospital who diagnosed me with Adolescent Idiopathic Scoliosis and we scheduled spinal fusion surgery for November of my sophomore year in high school.  My biggest fear was that I would not be able to ride again but, I worked hard and pushed forward.  A year after my spinal fusion surgery I was competing again and two years after the surgery I was competing in Las Vegas.
Although, I will be battling cardiology and orthopedic issues for the rest of my life I refuse to let them hold me back.  I will be starting college this year and pursuing my dream of working in an equine breeding facility.
My experience with Hunt with Heart has shown me that I do not have to fight alone.  I was given the opportunity to network with people that faced the same struggles that I do.  I am an avid hunter and I couldn't be more blessed to be given the chance to form these relationships while enjoying nature and doing something that I truly love. I would love to volunteer my time as a guide in the future so that I am able to further share my experience.  I will never forget and I will be forever grateful to all the guides, donors, and volunteers who are involved in Hunt with Heart organization.